Established in 1987 Pilgrims Carriages is everything you would expect from a company of renown - smart proffessonal staff, immaculate carriages,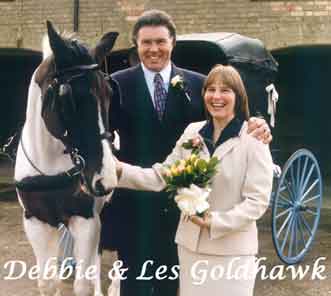 well presented and well behaved horses and attention to the finest detail.
It is rare these days to have the opportunity to capture the elegance and charm of a bygone
age.
Debbie & Les Goldhawk take a personal interest in their clients, whether it be for weddings, film work or individual parties; and would be pleased to discuss your individual requirements, at your convenience.
Carriages can be viewed by prior arrangement.
Telephone 01234 740201
E-mail: debbie@pilgrimscarriages.co.uk
Site designed by Prestige Weddings
If any faults are found within this site
please notify pam@prestigeweddings.net